US president opts for aggressive start to his 2012 campaign to defeat the Republicans and return to the White House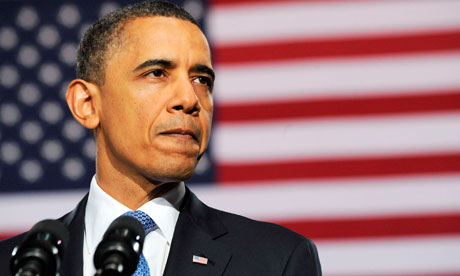 Barack Obama has formally launched his campaign for re-election to the White House next year, hoping to raise a record-breaking $1bn (£620m) in funds as the Republicans struggle to find a clear challenger for the presidency.
Obama made the announcement in an email that reached out to disenchanted Democrats whom he needs to campaign for him even though they feel he has been insufficiently progressive.
Although the election is set for Tuesday 6 November 2012, Obama is anxious to create a campaign organisation at least as efficient as the one in 2008 and to begin gathering enough funds now to outspend the Republicans in advertising, just as he did last time.
If Obama were to lose the election, the Republicans would dismantle his healthcare reforms, due to start in 2014.
He said: "We've always known that lasting change wouldn't come quickly or easily. It never does.
"But as my administration and folks across the country fight to protect the progress we've made – and make more – we also need to begin mobilising for 2012, long before the time comes for me to begin campaigning in earnest."
Many analysts predict Obama will win a second term, given the tendency of Americans to re-elect the incumbent. But others are more cautious, suggesting the result will be close and largely dependent on the state of the economy.
Brad Coker, director of Mason-Dixon polling, said it was far from a foregone conclusion. "I would put his chances of re-election at 50-50," he said. "Obviously, his popularity has suffered in a number of areas. The economy has been a little slow to recover. That is the linchpin. If the economy continues to improve, his chances improve greatly; if there are more bumps on the road, he has a problem. The little adventure in Libya is not helping him."
A CNN poll last week put Obama on 47%, down from 52% in January.
Obama formally filed election papers on Monday with the Federal Election Commission, allowing him to start fund-raising in earnest. He spent $748m to win the White House in 2008 and has already been sounding out big donors across the country for his re-election race.
The Republican contenders have been slow to come forward this year, with only Tim Pawlenty, the former governor of Minnesota, having formally declared so far and Newt Gingrich, the former house speaker, having half-announced his intention to stand. Others, such as Mike Huckabee, Mitt Romney and Sarah Palin, have yet to declare.
A televised debate of Republican candidates, scheduled for May, has had to be postponed until September because the declared field is so small.
Obama's campaign chief is Jim Messina, a former White House deputy chief of staff, and the campaign will be based in Obama's home town, Chicago, as it was in 2008. Others who were prominent in 2008, such as David Axelrod, have already moved back from the White House to Chicago to prepare for next year.
Obama's announcement was accompanied by a video in which he was largely absent, with the focus on potential campaign workers saying why it was important to them that he secured a second term.
Pawlenty, responding with a video of his own, rehearsed the potential campaign issues: high unemployment, the collapse of the housing market in many areas and the soaring federal debt.
"How can America win the future when we're losing the present?" Pawlenty asks in the video. "In order for America to take a new direction, it's going to take a new president."
One advantage of Obama's early announcement, and his declaration of his aim to raise $1bn, is that it could help scare off any potential Democratic challenger. The only credible challenger from within the party is the secretary of state, Hillary Clinton, and she has already ruled out taking Obama on a second time.
It is also likely that he will keep the vice-president, Joe Biden, as his running mate.
Coker predicted Biden would stay on the ticket: "If Obama was to drop Biden, the only person to enhance his chances as a running mate would be Clinton.
"If he dropped him, it would look like an act of desperation."
Obama received a boost last Friday with a surprise drop in unemployment to 8.8%, although the actual unemployment figure, as opposed to the official one, is estimated to be double that. In the worst-hit states families are unable to move to other jobs because they are unable to sell their houses, some of which are worth half of what they were five years ago.
Obama won North Carolina and Indiana in 2008, two states likely to go back to the Republicans, while six other states he took last time – Colorado, Nevada, Ohio, Pennsylvania, Florida and Virginia – could be tighter races.
But Larry Sabato, professor of politics at the University of Virginia, said Obama's chances were pretty good, citing statistics showing America tends to re-elect incumbents. Since 1900 incumbents have won 14 times and lost five times.
"I think the odds favour him," he said. "The economy is picking up. But there are things that could happen. The economy could take a nosedive. Libya is not working out as they intended.
"Do not rule out the possibility that the Republicans will nominate a clunker.
"They have four decent choices – Romney, Pawlenty, [Mitch] Daniels and [Haley] Barbour – and the rest are a bunch of clunkers. In ideal circumstances, one of the four could win."